In order to allow students to have multiple choices in diverse fields of study, our curriculum includes two fields of media studies: Multimedia Game Design and Animation Film Design.
The Digital Media Design curriculum aims to utilize digital equipment as a way of representing humanity and its interaction with technology. Digital Media Design Program cultivates students with global views in the era of E-challenge. The program will be focused on the following specific fields:
Animation Film Design:
Multimedia Game Design:
Curriculum includes theoretical and technical courses for the needs of students to meet the academic and industrial requirements, leading to various internship and career opportunities.
2. Credits for Graduation
With a study duration of 4 years, the graduate will earn a "Bachelor of Design" (B.Des.).




Except for final-year students, all undergraduate students must complete 12-25 credits per year. Final-year students must complete 9 - 25 credits. All undergraduate students are required to complete at least 128 credits for graduation, including 28 credits for university compulsory courses, 12 credits for general education courses and 58 credits for department compulsory courses.
3. Opportunity for Future Careers
Animation Film Design: 2D and 3D Animation, DV Film, Web Movie, Digital Film Director

Digital Game Design: Game Design, Game Apps, Interactive Game

Multimedia Design: Web Interactive Design, Web Marketing, Web Design
Professional Competencies
In accordance with the Ming Chuan University Procedures for Proficiency-based Graduation Requirements, these regulations were established to improve students' competitiveness for their future careers and further studies. To attain graduation eligibility, undergraduate students admitted in the 2010-11 academic year and beyond must meet the graduation requirements specified in these procedures and the enforcement rules for Service-Learning, English proficiency, Information Technology proficiency, Chinese proficiency and Sports capability, as well as the professional competencies stated in these regulations.
Graduating students must meet the graduation requirements for professional competency stated in these regulations. Undergraduate students are required to meet the professional competencies outlined below during their period of study:
The Proficiency of Executing Design Project:

The graduation design project report examination should be passed, and the created works should be exhibited and examined in public.



Specialization of Digital Media Design:

International and domestic competitions should be entered at least once before graduation (The works should be approved by the instructor).
Learning Map
In order for the two groups (Animation Film Design and Multimedia Game Design) to attain professional abilities, the Digital Media Design (DMD) department provides professional courses in the second and third years of study according to the learning map of each group. Required courses and recommended elective courses for students are set for each group to meet the demands of the design job market. All students are required to complete a graduation project based on the cooperative design process of creating design works during their final year.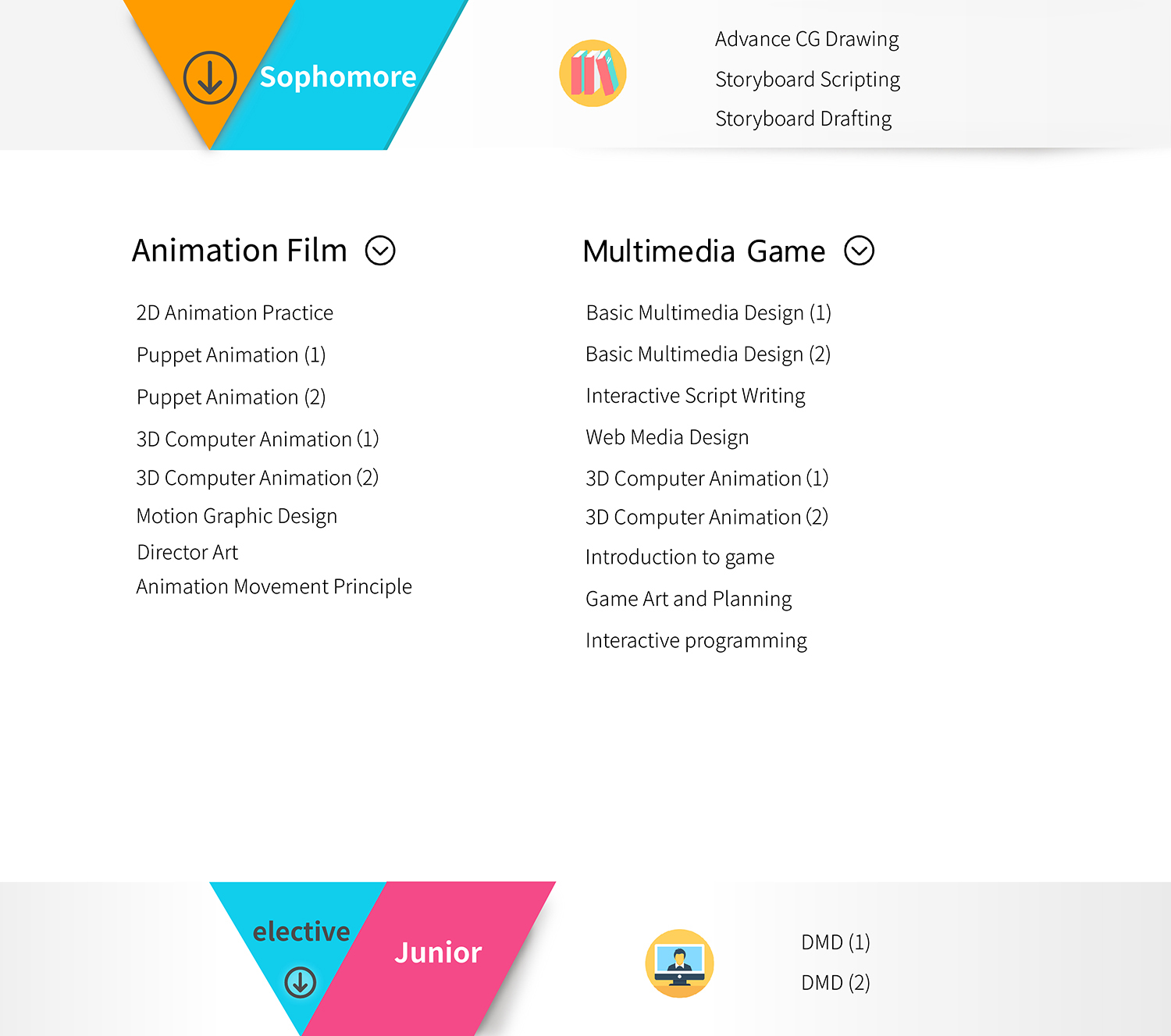 Second Year (Sophomore)
The courses are designed to provide two groups (Animation Film Design and Multimedia Game Design) to attain professional abilities.
Third Year (Sophomore)
The courses are dedicated to offer interdisciplinary areas for the needs of careers in terms of 2D / 3D animations, films, multimedia design and game production.
---
Download of Study Roadmap