Our department is equipped with professional and advanced teaching facilities, including a high-end computer and graphics classroom, a PC professional computer classroom, a graduation project studio, a Mac Pro post-production classroom, a digital music classroom, a MAYA animation classroom, a digital interactive gallery, a professional recording studio, a stop-motion animation studio, a traditional photography studio, a darkroom, a 3D virtual photography studio, and a Motion Capture motion capture system.
The Digital Audio and Music Studio (M209)
Digital Sound Effects and Music Studio is the professional classroom for courses such as Music Theory (required course) and Multimedia Sound Effect Production (required course), and Composition and Transcription (elective course). DMD also has its own professional recording studio for students' practicums, with a silence level of -39dB, where students' may record audio and samples of high clarity.
High Performance Computing Lab (M202, M504)
With its focus on Digital Media Design, media teaching emphasizes computer science and technology. So, these professional computer classrooms and professional learning environment are provided for students and teachers in all three study groups. The High Performance Computing Lab was set up in 2007 in order to satisfy the need for high teaching and usage qualities. Courses taught here include Computer Information and Graphics (required course), Computer Graphics (required course), Programming Design (elective course), as well as some required courses in the fields of media studies and animation.
Film Studio (M206) and Darkroom (M205)
This facility provides a teaching environment for the courses Basic Photography and Commercial Photography. Students can practice their skills and develop film in the darkroom, while they can shoot Puppet Animation in the professional film studio.
Located on the fourth floor of Gymnasium, students can use this studio to shoot green curtain films in order to do the post production. The courses taught here include Virtual Studio Practices and Computer Animation in order to do post production.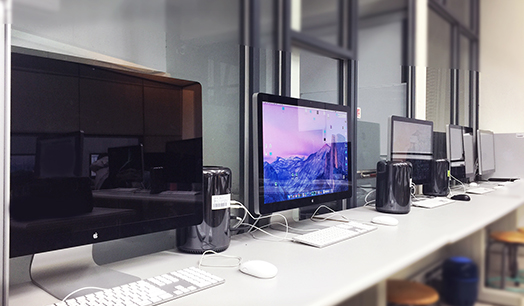 APPLE MAC Computer Lab (M205-1)
The Apple Mac platform computers in this Lab provide students the opportunity to process computer graphics in the Apple Mac System.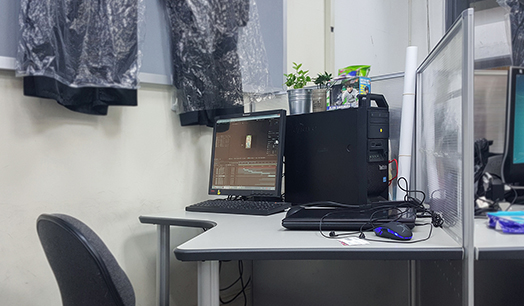 Graduation Project Studio (M203, M203-1)
This professional studio is set up for animation graphics and digital game design. It is a workroom for seniors working on their Graduation Project animation productions, films, post production, and digital game design. Besides, these professional rooms provide VR experimental equipment, high performance computers, game equipment, and 3D graphic computers. DMD budgets for ideal equipment, software, and peripherals in order to satisfy the needs of students.
Sketching Studio (M305, M306)
Sketching is a basic skill for design; therefore, DMD has set up a professional Sketching Studio in order to enhance students' hand-drawing skills and establish the base of design.
The Motion Capture Lab, located in the School of Information Technology, can be used by DMD students to digitally capture movements for use in 3D animation. The courses taught here include Virtual Studio Practices, Computer Animation and Graduation Project.